You are at your desk at work and by your arm sits a jar of…
She's at the cafe window, mug in handa young man steps into her viewout of…
The fire's last embers long died outand empty beds remain emptyempty yesterdayempty today and forever…
If you make me fall in love with you Please don't say you were not warned For as I fall, I'll break some bones Lame in love to rise no more.
Some people say marriage is nothing to aspire towards, as it's not an achievement. But is this true?
"If publicly accused of having a dirty bum, do nothing!" -Yoruba  Proverb Having such…
Every night as she struggled to sleep a spider crept in through her ears and…
That Monday morning, I did not wake up in a hurry. I did not run into the shower. I did not jump into my clothes, and breakfast was not left-overs from Sunday night's dinner. I lounged lazily, with Ezinwanne and Nneka watching a TV drama series. None of us had...
Load More

Tolu Akinyemi (@poetolu) Rovingheights Books, GTBank, Youread initiative Book Reading
I WILL FIND YOU by TOLU AKINYEMI @POETOLU
When You Are Single (Poetry by Tolu Akinyemi @poetolu)
I WILL FIND YOU -TOLU AKINYEMI (@POETOLU)
Hard Things - Poetry by Tolu Akinyemi (@poetolu)
Time! (Tolu Akinyemi- @poetolu)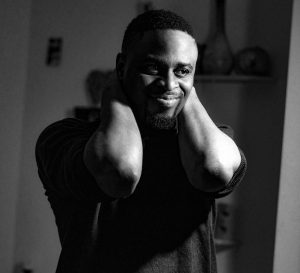 Tolu' Akinyemi was born in Akure, the sleepy capital city of Ondo State, Nigeria. He studied at the Federal University of Technology Akure, Nigeria, and then at the University of Greenwich, London.
His Poetry was short-listed in Verses From The Sun (2012); An Association of Nigerian Authors, Anthology, A Way With Words (2014); A Great British Write Off Anthology, The Big Society; A poetry stage play written for The Stephen Lawrence Charitable Trust, London, and The Greenwich-Lewisham Young People's Theatre. His writings have also appeared on other printed and online outlets.
You can find Tolu on Instagram, Facebook and Twitter (@poetolu). He believes in 'The Big Bang Theory' TV Show, Google and Jesus. Tolu currently lives in London, England.