That Monday morning, I did not wake up in a hurry. I did not run into the shower. I did not jump into my clothes, and breakfast was not left-overs from Sunday night's dinner. I lounged lazily, with Ezinwanne and Nneka watching a TV drama series. None of us had...
Early in the morning a true Nigerian meets a friend and like a game of ping-pong they play with greetings. "How is your wife?" "she is fine!" "And the children?" "they are fine!" "How is work?" "work is fine!" "Your father's health?" "he's doing well!" Then one says a greeting…
We built our love like a shelter you cut trees, I drew water you laid bricks, I made mortar we built our love together. We built our love like a shelter it had roofs, walls and windows wide beds and soft pillows we build our love together. Like a shelter…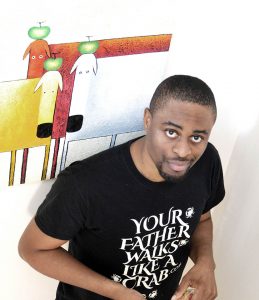 Tolu' Akinyemi is an Architect, Entrepreneur, and a passionate Creativist. He was born in Akure, the sleepy capital city of Ondo State, Nigeria. He studied at the Federal University of Technology Akure, Nigeria, and then at the University of Greenwich, London.
His Poetry was short-listed in Verses From The Sun (2012); An Association of Nigerian Authors, Anthology, A Way With Words (2014); A Great British Write Off Anthology, The Big Society; A poetry stage play written for The Stephen Lawrence Charitable Trust, London, and The Greenwich-Lewisham Young People's Theatre. His writings have also appeared on other printed and online outlets.
You can find Tolu on Instagram, Facebook and Twitter (@poetolu). He believes in 'The Big Bang Theory' TV Show, Google and Jesus. Tolu currently lives in London, England.