That Monday morning, I did not wake up in a hurry. I did not run into the shower. I did not jump into my clothes, and breakfast was not left-overs from Sunday night's dinner. I lounged lazily, with Ezinwanne and Nneka watching a TV drama series. None of us had...
Early in the morning a true Nigerian meets a friend and like a game of ping-pong they play with greetings. "How is your wife?" "she is fine!" "And the children?" "they are fine!" "How is work?" "work is fine!" "Your father's health?" "he's doing well!" Then one says a greeting…
We built our love like a shelter you cut trees, I drew water you laid bricks, I made mortar we built our love together. We built our love like a shelter it had roofs, walls and windows wide beds and soft pillows we build our love together. Like a shelter…
The second hardest thing in the word is finding you. because precious things are hard to find. The hardest thing in the world is losing you because losing you is losing me. These hard things easily make the easiest thing in the world keeping you and loving you till you've…
My shoes have lost their floors And my eyes riot from looking But till I find you, I will Worry many more maps, Scourge many more miles And dissect a thousand more smiles. I will find you. It might take a day perhaps another decade But I will find you…
"She's going to slap me!" I said to myself, unsure of what defensive demeanour to assume. Do I wait for her to accuse me, and then in a calmly measured voice tell her it wasn't me while pretending to be offended? Should I make my denial very indignant, to validate…
When you are single everything reminds you. Commercials remind you everything is cheaper if you buy in twos. Your big idle pots remind you since you almost never cook for two Your favourite dress reminds you; it needs help zipping from the back Those nosy acquaintances too with questions you…
I wait for love patiently the way one waits for a special delivery. All day, I sit by the door ears flared like a calabash waiting quietly for the bell to ring. By noon it rings eventually, excitedly, I leap for the door but it's only my neighbour Mosun; borrowing…
People who love shoes are really not people. In their minds they are millipedes, and…
If you have not learnt to tame sleep, you might never get to take victory in the areas of your life where you need them the most. Your bed is not your friend, it is a 'necessary evil'. Time is the only resource that man has never been able manufacture…
Last night the boy was thirteen This morning he is thirty To look out of his window Asking 'where did the days go?' Like pages of an open book Turned by the wind. But that is truth and that is life To sleep a child and wake a man And…
Patrick tugged urgently at the piece of cloth strangling him all day. He yanked the…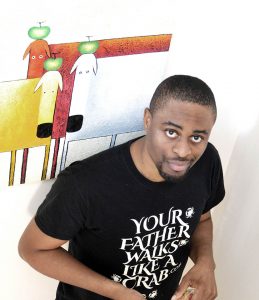 Tolu' Akinyemi is an Architect, Entrepreneur, and a passionate Creativist. He was born in Akure, the sleepy capital city of Ondo State, Nigeria. He studied at the Federal University of Technology Akure, Nigeria, and then at the University of Greenwich, London.
His Poetry was short-listed in Verses From The Sun (2012); An Association of Nigerian Authors, Anthology, A Way With Words (2014); A Great British Write Off Anthology, The Big Society; A poetry stage play written for The Stephen Lawrence Charitable Trust, London, and The Greenwich-Lewisham Young People's Theatre. His writings have also appeared on other printed and online outlets.
You can find Tolu on Instagram, Facebook and Twitter (@poetolu). He believes in 'The Big Bang Theory' TV Show, Google and Jesus. Tolu currently lives in London, England.